Over 10 years in development, including 3 major revisions, the narrative library contains over 7,500 narratives totaling more than 300,000 words. For comparison, a typical novel might contain 60,000 to 80,000 words. It includes narratives for inspectors working in a wide range of climate zones, inspecting homes of different types, ages, and quality, and built from a variety of materials.
Library development included the following resources:
Extensive online research;

Information from manufacturer's associations;

National Roofing Contractors Association (NRCA) manuals;

Information from contractors and their websites;

Information from the print media;

Building codes and standards (narratives do not quote codes);

The very active InterNACHI message boards.

The author's 30+ years in the residential and light commercial building industry;

The author's 10+ years as a working inspector;

The author's experience in writing inspection articles, website content, courses, exams, and SOPs for InterNACHI;
The NARRATIVE FORMULA
Narratives are written in a uniform manner, keeping them as short as possible while following a formula designed to protect inspectors from liability:
Accurately describe the defect

Narratives choices include defect causes, and descriptions without listing causes, depending on the defect type and inspector preference. Choices may include long and short narratives for minor, moderate, and severe conditions, depending on the condition. Narratives are kept as short as possible while still providing adequate protection from liability.

Tell how serious it is and why

Accurate description is as important as accurate evaluation .

Make a recommendation.

This means recommending repair, monitoring, maintenance, correction, or further evaluation by a specialist. Except in rare, obvious situations, it does not mean specifying a particular type of correction. Making a recommendation transfers liability from the inspector to the client.
When you write a narrative, REMEMBER! Everyone who reads that narrative should come to the same conclusion about what it says. People with different perspectives and motivations (buyers, sellers, contractors, attorneys, judges/arbitrators, etc.) may be reading your report.  Don't leave a narrative open to interpretation! In an effort to keep the report short, some inspectors leave out important information.
RERERENCE MATERIAL
The Library also includes approximately 40,000 words of onboard reference material, including articles by Kenton Shepard, checklists, and links to reference websites.
Using the templates you'll have access to:
Manufacturer's installation manuals from companies like:

LP:

CertainTeed

and others: along with

installation and inspection manuals and technical bulletins from organizations like:
If you want to identify the year of manufacturer for furnaces, boilers, and water heaters, a link to comprehensive Date Codes are provided.
Because of the differences in individual software design, the ways in which this reference material is accessed and its appearance may vary.
NOTE: reference content varies with format.
DROP-DOWN LISTS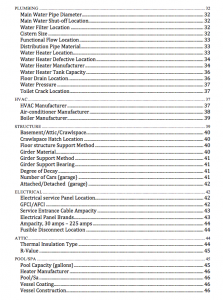 To reduce the size of the library and make finding narratives faster, some narratives have drop-down lists installed, allowing you to quickly change the narrative to accommodate different locations, materials, manufacturers, numbers, etc. Overall, the Library contains 73 different drop-down lists (sample page shown in in the photo above).
Why not just use the narratives that came with my software?
The narrative libraries supplied with inspection software are usually pretty limited. Inspection software producers are focused on updating and improving their software platforms according to the continuously evolving demands of the market. Keeping up with technology is a demanding business. Updating their narrative libraries is low on their priority lists.
My focus is on revising and improving the Library so that you have the information you need at your fingertips while you're inspecting or creating the report, and keeping it well organized to make finding narratives as fast and easy as possible.
Are the narratives based on InterNACHI?
Although the Library templates are available through InterNACHI's online store, the library narratives are not based on any single professional home inspection organization. They're written to serve inspectors everywhere, regardless of professional affiliations.
"I just finished my first report using the new narratives. I shaved about 2 hours off my report writing time. With the basic HG I had to develop a lot of my own narratives as I went. Now I just pick and click for the most part. If you are new to the business, like me, this is a bargain for all the time you will save developing your own narratives. Thanks Kenton."

Frank Rotte
Certified Inspection Services
San Diego CA