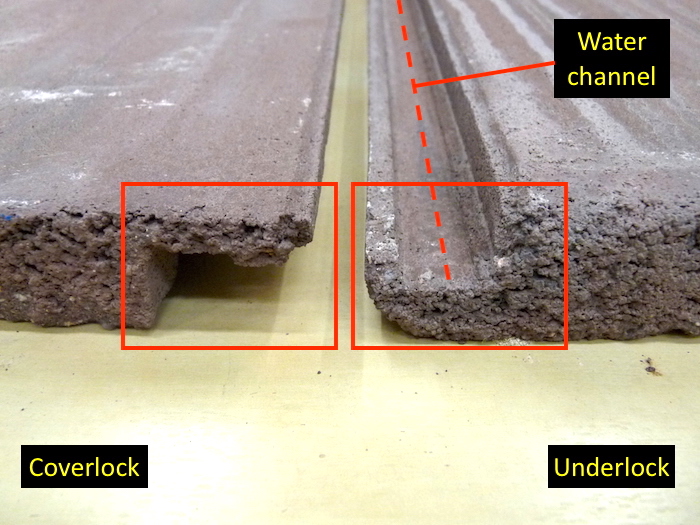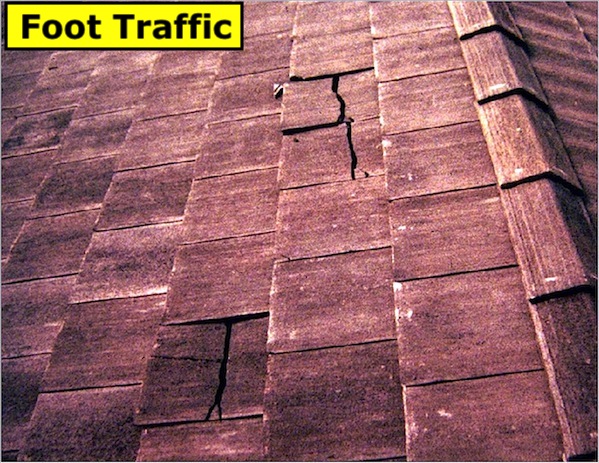 Photos
Photograph all roof slopes. This is for reference. Include at least one in your report. Photos taken from low, looking up, or photos taken across the roof, are better than photos taken from the ridge.

Take photos of roof sections approx. 2'x3' that show the average condition of the roof. If it varies with roof slope, shoot however many you need to record the different conditions.

Photograph examples of defects (including sealant instead of flashing). Newbies tend to shoot too close. You need to be back far enough for visual reference but close enough to see the defect details.

Hold the camera horizontal or vertical, don't tilt to the angle of the roof.
Start at/near the eve. Walk parallel to the eve. Look at sections of roof as you go, areas approximately 10'x10'. Check the gutters as you scan the roof.  Look for:
Installation
Minimum slope/Underlayment

4&12 with #30 felt (2015 IRC table 905.1.1);

2½ &12 to < 4&12 req. dble layer underlayment (19" overlap) (2015 IRC table 905.1.1);

4&12 with #30 felt (NRCA);

4&12 with #30 felt (TRI);

3&12 to < 4&12: 1 layer 90lb. or 2 layers #30 felt (TRI);

2½ &12 to < 3&12: req. built-up roof or single-ply membrane (TRI).

Closure or birdstop at eave.

3" minimum headlap;

Overhang:

at eve: 1½ inches

at rake: 1 inch

Fastening schedule;

Special fastening: 2015 IRC 905.3.6

3 courses or not less than 36" from eaves, rakes or either side of hips or ridges.

Field tiles:2015 IRC Table 905.3.7

Solid sheathing, no battens: one per tile;

Spaced/solid, with battens < 5&12:none required;

Spaced, no battens:

5&12 < 12&12: 1 per tile, every other row

12&12 < 24&12 : 1 per tile

2½ &12 to < 3&12: (TRI)

Fastener/stand-off penetrations for roof-mounted equipment;

Ice dam protection;
Condition
Broken, chipped, cracked, punctured

Misaligned

Displaced tile (slipped or displaced by wind or foot traffic)

Efflorescence

Biological growth

Failed bond of field or cap tiles

Valley blockage

Debris accumulation
Flashing  (installation and condition)
All sidewall base- and counter-flashing

Flat tile: step-flashing

Medium/high profile tile: continuous flashing with water channel

All headwall base- and counter-flashing

Lead flashing to conform to tile profile;

Flat flashing should have a foam, metal, or mortar closure

Proper penetration flashing;

Plumbing vent pipes: proper installation and rubber boot condition.

Combustion vents;

Attic ventilation devices should have screens;

Dryer vent;

HVAC intake and exhaust;

vents (bathroom, laundry exhaust fans, etc.);

Chimney base- and counter-flashing;

Cricket valleys;

Electrical mast

Valley flashing

Identify type of valley (open or closed);

Comment on any roll roof open valley linings;

Check the potential for cross-wash.

Kickout flashing with sealant;

Roof-edge flashing
If you can't/don't walk the roof
Get photos of as many slopes as possible. You can see more of the roof from farther away. Rest your camera on/against something stable and zoom in.

Get medium and close-up shots however you can.

View the roof from a ladder at the roof edge, other parts of the home, hillsides or any other vantage point you can find.

Try using binoculars even from the roof edge.

Consider using a telescopic pole to take photos of portions of the roof that are difficult to see. Some inspectors are now using drones with cameras attached.