STAIRCASE REQUIREMENTS VARY!
The requirements for staircases, including (but not limited to) dimensions for handrail height, size, allowable projection, and component spacing, and maximum and minimum tread and riser dimensions, will vary according to the standards adopted by the jurisdiction in which a home is located. You should take the time to determine what standards are in effect where you work and adjust the staircase narratives of this narrative library accordingly. Dimensions given here are for the International Residential Code.
2021 IRC STAIR  REQUIREMENTS (R311.7)   Use this link to look up regulations for your state. These may be amended from the Standard ICC IRC.
Stairway
Minimum headroom- 6'-8" (2032 mm) measured along a plane represented by the tread nosings;

Minimum width- 36" clear;

Maximum height between landings- 12'- 3" ((3734 mm). This varies with code version, generally 12' to 12'-7").
Handrails
Stairs must have at least one handrail;

Handrail height- 34" to 38" above line of nosings.

Handrail must be continuous for the entire length of the flight;

Handrail projection into stairway- 4½ " (114 mm) maximum (both sides);

Minimum width between handrails (1 handrail installed)- 31½ " (787 mm);

Minimum width between handrails (2 handrail installed)- 27 " (698 mm)

Minimum space between handrail and wall 1½ ";

Handrail Grip (see image );

Handrail perimeter exceeds 6¼ " (see image).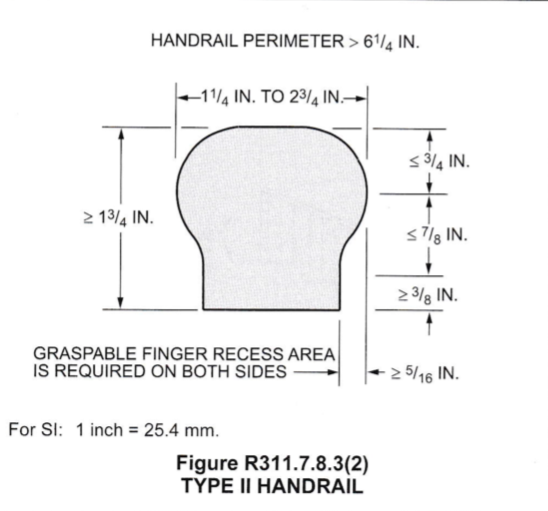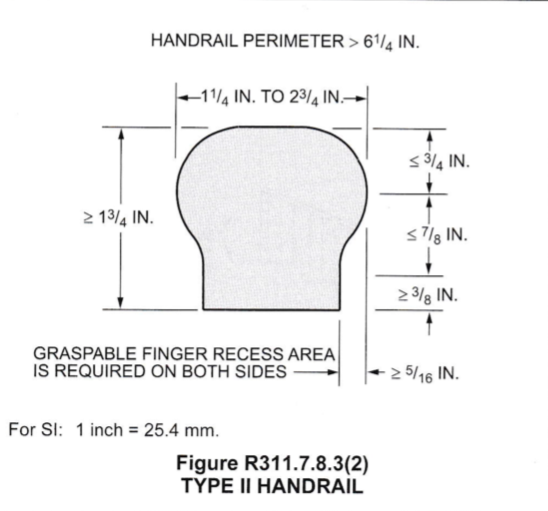 Level Guards (guardrails)
Minimum height- 36"

Maximum opening (anywhere )- less than 4";
Stair Handrail Assemblies (sloped guards)
Maximum opening (between balusters or at walls)- less than 4⅜"

Maximum opening (between bottom of guard and staircase)- less than 6"
NOTE: Baluster spacing is different for guardrails and handrail assemblies!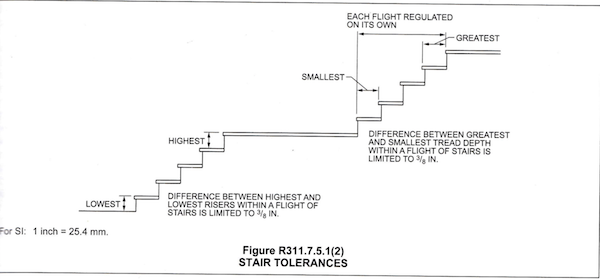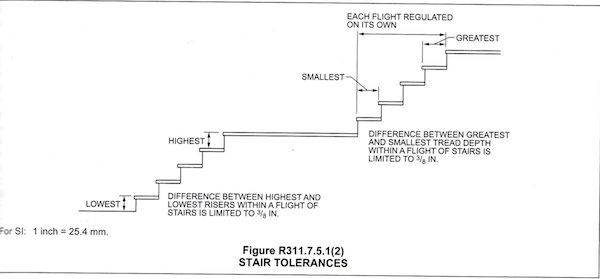 Risers
Riser maximum height- 7¾ " (196mm);

Difference between riser heights allowed- ⅜" (9.5mm) maximum;

Maximum riser opening- 4" max. if located more than 30" (762 mm)above the walking surface (except spiral staircases).

Risers may not slope from vertical more than 40°.
Treads
Tread minimum depth- 10 " (254mm) measured between the nosing faces of adjacent treads (see image);

Difference between tread depths allowed- ⅜" (9.5 mm) maximum.
Landings
A door at the top of the stairs must open over a landing if it opens toward the stairs.

Depth in the direction of travel- 36" minimum
WINDING STAIRS (see image)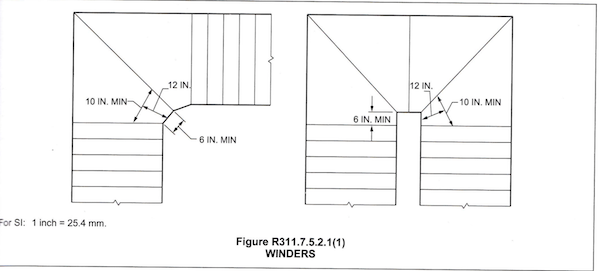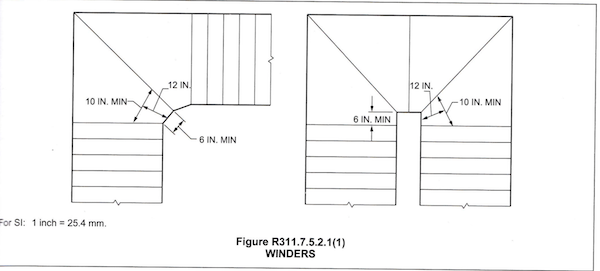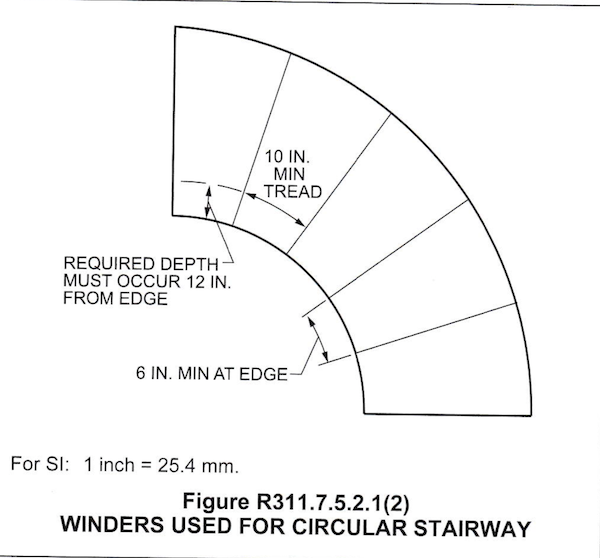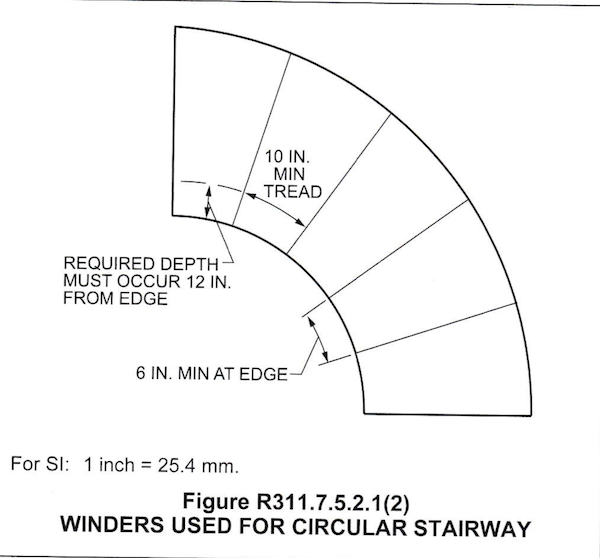 Treads:
Minimum depth at inner radius- 6";

Minimum depth at a point measured 12" in from the inner radius- 12".
SPIRAL STAIRCASES (see image)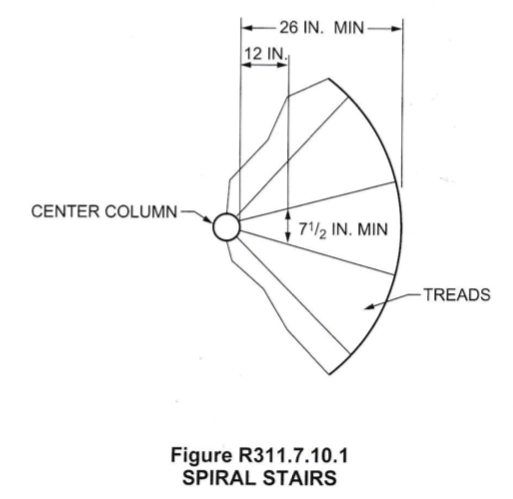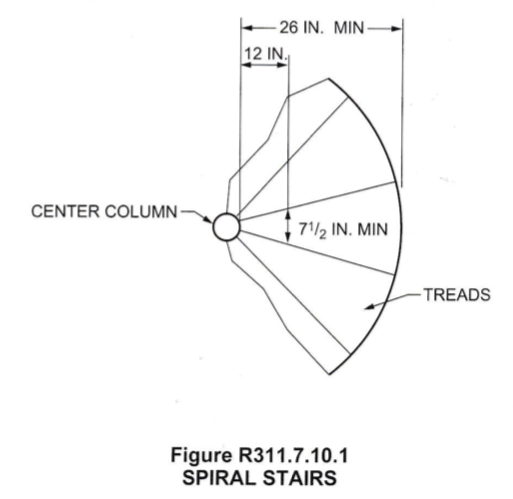 Minimum headroom- 6'-6";

Clear width below handrails- 26" (660 mm) minimum;

Maximum riser height- 9½";

Minimum tread depth- 7½" Measured at a point 12" from the center column;

Treads must be identical in dimension.
EXTERIOR BASEMENT STAIRS
…are exempt from stair regulations if they are covered by bulkhead doors and the height of the stairway from the basement finish floor to grade adjacent to the top of the stairway is less than 8'.