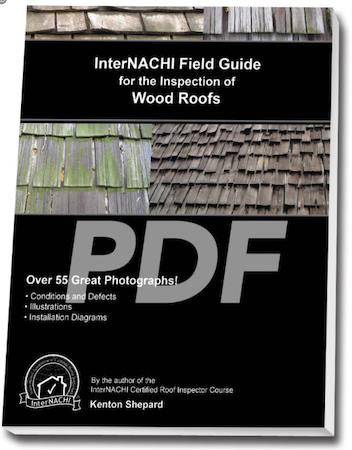 This 34 page field guide , containing over 55 photographs, illustrations and diagrams, and is meant to be used as a tool to help identify problems with wood shake & shingle roofs. Content covers:
Standards and warranties

Types of shakes and shingles

Installation- proper and improper

Aging characteristics

Wind & hail damage

Biological growth

Hail damage

End of useful life
This is a PDF download, not a book.  You will receive a link via email to download it after purchasing. 
Table of Contents
Performance standards/warranties, 1
Shake and shingle grading, 2
Manufacturing and application standards, 2
Wood species, 3
Grain exposures, 4
Installation details, 6
Underlayment/interlayment, 10
Flashing, 13
   • Headwall, 11
   • Sidewall, 11
   • Kickout, 13
   • Vent, 1
Fastener defects, 16
Moisture, 19
   • Discoloration, 19
   • Extractive bleeding, 20
   • Decay, 20
   • Loss of extractives, 23
   • Erosion, 24
   • Distortion, 24
Splitting 27
Hail, 29
Biological growth, 32
End of useful life, 33