Flat Gear Plate Drive Assembly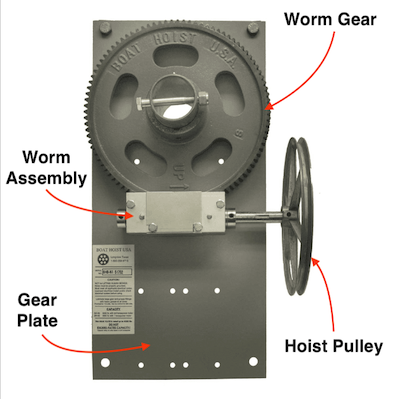 Basic Description
Mounted on the flat plate gear plate drive assembly (also called the backplate) are a worm gear, a short (or extended) block worm assembly, a (typically) 10-inch hoist pulley, to which a drive belt will be attached.
The worm gear assembly has a sleeve, backplate bearing, axle sleeve bolt, and snap rings. It is lubricated through 1/4 inch grease fittings (zircs).
.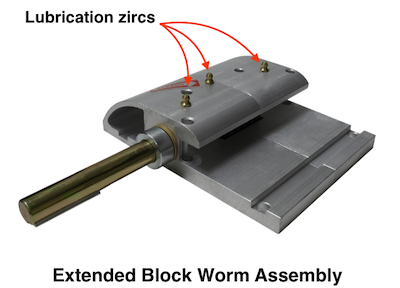 A worm assembly has a bearing block, a single-threadworm on a shaft, and an aluminum housing with 1/4 inch grease fittings. The assembly attaches directly to the back plate through standard mounting holes. 
There should be no steel-on-steel moving parts. The worm gear and single-thread worm should be of different metals, for example a cast iron worm gear and a bronze worm, or vice versa.
How it Works
A motor with a pulley uses a drive belt to spin a hoist pulley.

The hoist pulley is connected by a shaft to a single-thread worm assembly,

The worm turns a worm gear that turns a drive pipe that will either raise or lower whatever it is attached to.

The drive pipe fits into the sleeve in the center of the worm gear and is held in place by a hardened axle sleeve bolt. Failure to use an adequately hardened bolt can result in failure of this connection and sudden loss of boat support, a potentially dangerous event.
Inspection Concerns
Back plate: Check to see that it is not bent or bowed, and that it is mounted correctly.

Worm gear: Look for lubricant, gear tooth wear, corrosion, and damage. The axle sleeve bolt should be securely in place (check for wear). 

Worm assembly: Look for lubricant, secure mounting, corrosion, wear, and excessive noise (squealing/grinding) when operated.

Hoist pulley: Look for swelling, bending, warping, misalignment, damage, and secure.

Drive belt: look for adequate tension and glazing or slippage indicating wear. The belt should move no more than ½-inch when pressed. tightening will eventually break the motor shaft.
For more detailed explanations and information on flat plate drives, see pages 5-7 of the BH-USA-Equipment-Guide. Although this is a technical manual for BH-USA equipment, flat plate drives from other manufacturers will work in a similar manner. For drives made by other manufacturers, look on my Manuals: Lifts, Drives, Remotes page, or check online.
Proper Mounting Configuration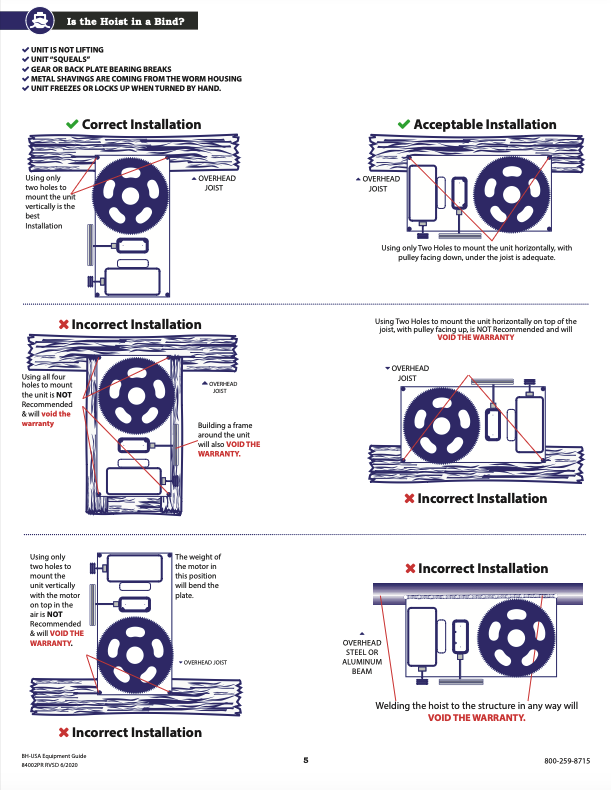 Bear in mind that when viewing this diagram, a drive pipe (not shown) would normally be located in the center of the worm gear. If it were included in this diagram, you would be looking at the end of the drive pipe. 
Boat Hoist Lubrication

Red-colored boat hoist grease is an NLGI #2 grade of grease. Fortified with additives to protect against rust, corrosion, oxidation, and wear. Hoist grease is a non-melting, custom-built grease that protects even against saltwater.
Oxidation stabilization keeps the oil and other organic components from becoming rancid, increasing service life. Extreme pressure properties provide the lubricant to prevent galling.
Remote Control
Remote controls will vary somewhat by manufacturer, but each will have a portable transmitter and a receiver mounted somewhere on the drive.
This photos shows a yellow GEM brand receiver mounted in front of the worm assembly, with a cable extending down to connect to the motor (not shown).