USING the TABLE of CONTENTS
At the beginning of most documents you'll find a Table of Contents. Using a MAC, you can simply click the heading or sub-heading and you'll be taken to that location in the document.
GETTING STARTED
The first thing you should do when your purchase arrives is to copy and paste a safety copy somewhere you'll be able to find it if you need it. That way you'll have one original copy, and a copy you can edit if you wish.
USING THE LIBRARY
The MS Word version of the library is available as a series of documents organized in folders named after the systems they describe (Electrical, Plumbing, Structure, etc.). Also included are narratives for Thermal Imaging, Pool and Spa, Log Homes, and Green Building.
Narratives can be copied and pasted into any inspection software.
When you first open it, it looks like this: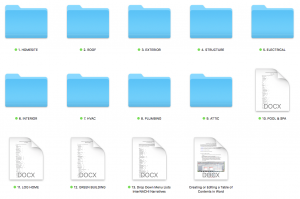 Click any image to enlarge
Each primary folder may contain documents, and/or secondary folders...

...or just documents. A folder with a lot of information, like the ROOF folder (below) may contain quite a few documents. This actually makes finding narratives faster.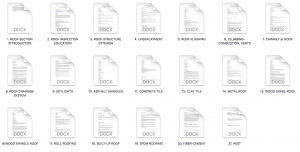 Each document has a Table of Contents (TOC) located at the beginning. The length of the TOC will depend on the length of the document. For example, the ASPHALT SHINGLE TOC is more than a page, while CLAY TILE is much shorter:
Each line in the TOC is a clickable link, so clicking a heading will take you immediately to the part of the document where the corresponding heading/sub-heading is located.
In the body of each document, narratives are located under headings and sub-headings: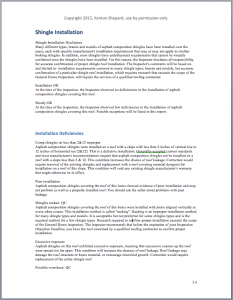 Document contents and TOCs are all unlocked and so are editable.

Streamlined formatting;
The Library includes:
Reference material: articles, checklists and links;

Date codes: water heater, furnace;

73 drop-down menu lists;  and

25 Inspector Reference sections.