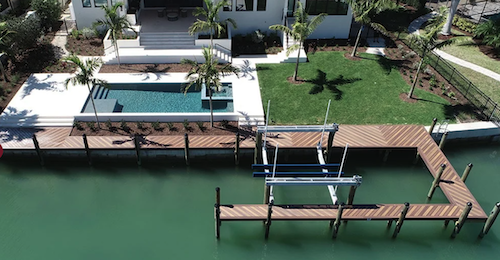 .
2,100+ narratives you'll never have to write... we've done it for you!
Buy it here, only $225.00!
Stop walking away from residential boat docks and the opportunity to inspect them as an ancillary inspection (view the Standards of Practice [SOPS]).
For those wanting to upsell, you can start inspecting boat docks, lifts and boathouses using my new Boat Dock template for Home Inspector Pro!
Loading the InterNACHI Narrative Library template for Home Inspector Pro into their software will not change the way the HIP software works. You will still have access to all the templates that come with Home Inspector Pro software, but the INL Boat Dock template will appear in your list as an additional choice.
This template is the first of its kind, developed with those new to boat dock inspection in mind. In compliance with InterNACHI's SOPs it does not require entering the water.
For online boat lift manuals, follow this link!
For more guidance in inspecting docks and boat lifts, check out the reference material in the menu on my website
The Boat Dock inspection template contains a little over 2,100 comments under the following Heading and Sub-heading titles:
BOAT DOCK
General Information

Dock Disclaimer

Documentation

Waterway Type

Dock Description

Dock access

Barriers and Gates

Gangway

Ramp

Fixed Walkway

Floating Dock

Dock Description

General Condition

Dock Anchoring System

Concrete Floats

Polyethylene Floats

Expanded Polystyrene Floats

Steel Tube Floats

Fixed Dock

Dock Structure

General Condition

Cathodic Protection

Dock Piles

Deck Frame

Decking

Walers and Through-rods

Rub Rails

Hardware

Dock Electrical

Electrical Disclaimer

Dock Electrical Panel

Grounding and Bonding

Overcurrent Protection

GFCI Protection

ELCI Protection

Branch Wiring

Shore Power

Lighting

Electrical Datum Plane

Water Service

Dock Safety Equipment
BOAT LIFT
Documentation

Lift Type

Lift General Condition

Boat Lift Piles

Direct Drive

Flat Plate Drive

Boat Lift Structural Components

Cables and Pulleys

Bunks and Covers

Boat Lift Electrical

Hydraulic Components

Boat Lift Operation
BOATHOUSE
Note: although based on my Residential template, these narratives specifically mention boathouse conditions.
Boathouse Structure (Wall and Floor)

Boathouse Structure (Roof)

Attic Access

Conventional Roof Framing

Truss Roof Framing

Roof Fasteners and Hardware

Boathouse Roofing Materials

Inspection Method

Roof Structure Exterior

Roof Flashing

Roof Sheathing

Roof Vents

Asphalt Shingles

Concrete Tile

Clay Tile

Metal Roof 

Stone Slate

EPDM

TPO

Boathouse Exterior

Wall Exteriors

Door/Window Exteriors

Exterior Trim

Stucco/EIFS/DEFS

Fiber-cement Siding

Composite Siding

Vinyl Siding

Wood Siding

Boathouse Interior

Interior Reference

General Interior

Floors

Walls

Ceilings

Interior Trim

Ceiling Fan

Lighting

Exterior Doors

Interior Doors

Windows

Skylights

Bathroom 

Fireplace

Stairs

Environmental Hazards

Pests

Thermal Imaging

Boathouse Electrical

Boathouse Sub-panel

Boathouse Branch Wiring

Boathouse lighting

Boathouse Plumbing

Water Supply

Drain, Waste, and Vent

Water Heater

Gas System

Water Quality
*Price subject to change without notice.
Developed by Kenton Shepard
Author of the InterNACHI Narrative Library: Residential. See Kenton's qualifications here.
LIMITATIONS
You must have Home Inspector Pro software installed to use this template.
No returns on digital products!
Price and content subject to change without notice.
Template substitution and replacement policy  (if you switch software or lose this template)